How to fix: Safari can't open the page because Safari can't establish a secure connection
About one year ago my Macbook Pro and my Macbook Air started acting a bit weird. Some homepages would no load in Safari. In my case it was e.g. www.twitter.com and www.paypal.com. I kept getting the same message: "Safari can't open the page because Safari can't establish a secure connection"
I seriously searched all search engines, and read almost every single post I could dig up on the internet but there was no solution to be found – except from reinstalling the entire system – which I really did not want to do. Safari would not open some secure pages while others did just fine. The sites that didn't open in Safari worked flawlessly in Firefox and Chrome.
Currently, I'm using Mavericks on my MBP and Yosemite on my MBA, and both computers experience this problem. Safari version is currently 7.0.6. As far as I remember the problem was also present in Mountain Lion.
I tried a lot of the suggestions incluing: "Remove all web site data", turning off extensions, uncheck "Stop internet plug-ins to save power", adding a different DNS in network setting such as 8.8.8.8 and 8.8.4.4, testing from Guest Account, Safe boot, uninstall JavaForOSX2013-05, reset all network setting, reinstalling Maverick, updating to Yosemite etc. Nothing worked. The only thing that I got was the deleting of all my passwords, cookies etc etc.
In this thread there's supposedly a fix that requires you to reinstall a backup after doing complete reinstallation of the OsX. Nevertheless, I did not eager to do a complete reinstallation…
Other things that might be a solution:
Reset/repair my default keychain
Change DNS server
Check for software updates, all up to date
Flush DNS cache
Check certificates in keychain, removed two revoked, all other default have Use System Defaults
Firewall not enabled
Parental controls not enabled
Tried to reset Safari with all options checked
Set system clock/time to automatically update.
Chrome and Firefox on the same computer don't have any issues
Therefore, I thought that the problem might be in the certificates. As the problem was only present in Safari, I opened www.twitter.com (which was one of the sites that did not work in Safari) in Firefox. Here I clicked the green lock next to the URL. The below pictures are in danish, but I guess you'll get the point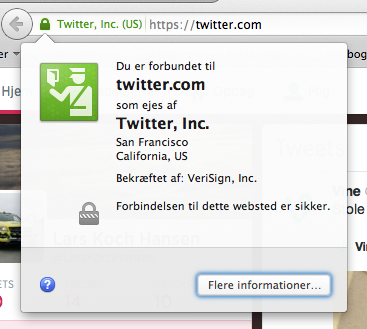 Next step was to click the "More informations" (Flere informationer) to bring up the next window. Click on the safety/security tab (Sikkerhed) to the right and then "show certificate" (Vis certifikat).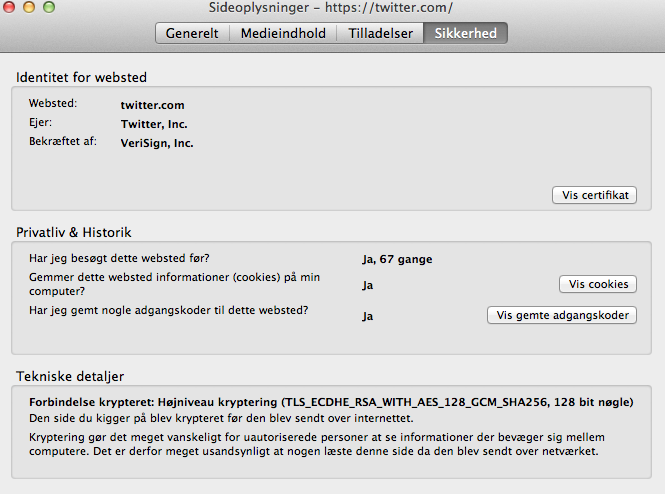 Here, I switched to the "Details" tab (Detaljer).
In the  pictures you can see that twitter.com uses the "VeriSign Class 3 Publich Primary Certification Authority – G5 certificate".
Then, I opened the Keychain by clicking CMD+Space and then typing "Keychain". Then click the "system roots" (all entries). Here I found the above Certificate, which had a blue "+" mark on it. Then double-click, which brings up the windows below. Here you can choose to use "system setting" (Brug systemstandarder), or Always approve (Godkend altid) or Always reject (Godkend aldrig).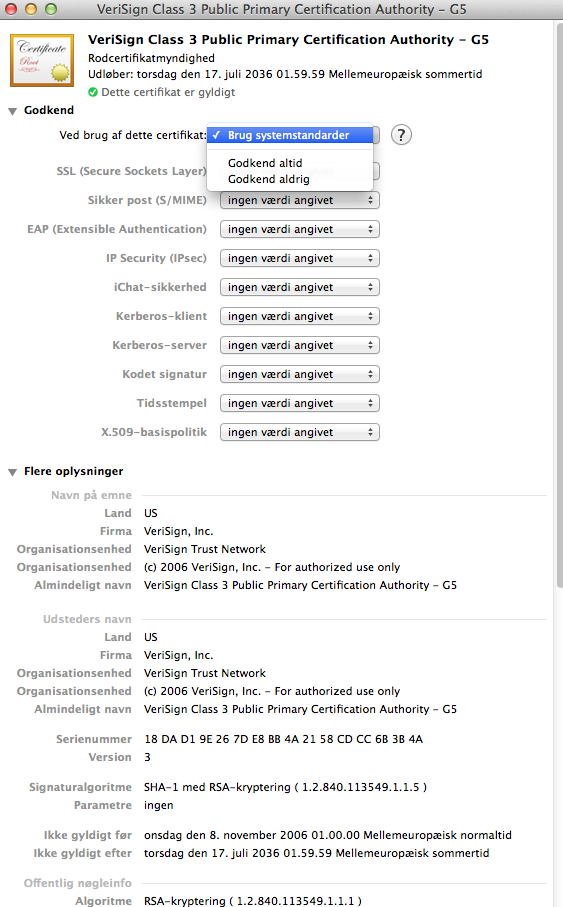 It turned out that the problem was the certificate, which somehow was "locked" to my mail "server", which prevented all other websites from using it. In my case it was locked to my mail server "smtp.xxxxxxx.dk". (The above picture does NOT display the locked certificate but shows how it looks after it has been "unlocked" – I did not take a screenshot when changing it the first time). I don't know how or why it was locked to this mailserver.
I changed the certificate authentication to "Always approve", but that did not work. Then I switched it to use the system setting and voila – now all pages loads perfectly. PROBLEM SOLVED, and I was a happy man !
I really hope that this fix can help a lot of people as I was REALLY frustrated as nothing worked…
Feel free to leave a comment as it's always nice to get response from people.
Help me with a cup of coffee ? 
If you found my blog helpful you may support my coffee drinking for free by entering your city in the HotelsCombined Search box below. Just fill in a date and click "View deals" on one of the hotels. When redirected the blog will get a few cents. You will NOT get spammed and you can really make a difference for me in order to keep the blog up and running – or you may donate via PayPal 🙂
THANK YOU very much in advance…
Sincerely,
Lars
Safari https problem - Who can perform this fix?
Computer nerds

Mac users with a little knowledge of system settings

Newbies who understand a couple of computer terms
Conclusion
Pretty easy to correct.
Latest helpful donations (Thanks!):
Joni S. ($2)
Hvad synes du?
( stemmer)
Information
Seneste indlæg
Samarbejde?
Bor i Kolding med min hustru Heidi og vores to skønne børn Emma og William. Jeg elsker ALT der gør hverdagen bedre, lettere eller bare sjovere. Jeg elsker god mad og inspirerende oplevelser, og så har jeg altid haft et blødt punkt for gadgets og lækkert udstyr til hjemmet. Til daglig er jeg medicinmand i det danske hospitalsvæsen.